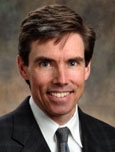 Dr. Kelly attended the University of Rochester, graduating with high distinction with a degree in Chemical Engineering. He then received his medical degree from Vanderbilt University. He completed a General Surgery Internship at the Oakland Naval Hospital, after which he worked as a Flight Surgeon in Pensacola, Florida. He then completed his Orthopedic Surgery Residency at the University of Kansas, Missouri in 1999, followed by a Fellowship in Shoulder and Elbow Surgery at the San Francisco Shoulder, Elbow and Hand Clinic. He is a specialist in surgery of the Shoulder and Elbow and with a research interest focused on shoulder replacements. He is part of a development team for the "Reverse" shoulder replacement, a device that provides a solution to many patients with previously unsolvable shoulder problems involving arthritis and rotator cuff disease. His work is also heavily concentrated in treatment of athletes and active patients using minimally invasive techniques such as arthroscopy.
Please visit Dr. Kelly's website at sfshoulder.com to view videos and to learn more about shoulder surgery.
Dr. Kelly has clinic in San Francisco, Truckee and Eureka.
American Academy of Orthopaedic Surgeons
Arthroscopy Association of North America
California Orthopaedic Association
California Medical Association
San Francisco Medical Society
Western Orthopaedic Association (WOA)
Northern California Chapter of the Western Orthopedic Association (NCCWOA)
On September 3, 2013, I had a full shoulder replacement surgery performed by you. I would like to express my appreciation for the excellent care and respect that I received from you and your colleagues during and after the surgery. I would like to express my thanks to you for performing an outstanding surgery on replacing my right shoulder. I feel that I had one of the best surgeons available. Although I am in the early stages (3 weeks) of recovery, I have had little or no pain in my right shoulder, and it is recovering without any complications. I look forward to a full recovery in the coming months.
My shoulder was devastated in an industrial accident and misdiagnosed for six months. Then I went to Dr. James Kelly and I was on my way to recovery! Surgery went like a breeze; in and out in hours and his bedside manners are great, as is the rest of his staff. I've been working out in gyms since I was 14, and Dr Kelly has given me back that option. Thanks, Doc!
I want to thank you for you excellent work in repairing my arm and relieving the pain that had really begun to wear me down. It's wonderful to be way on the other side of that! Your staff assistants and fellows were very professional and empathetic. I was rarely every kept waiting which I find very refreshing! Thanks again to you personally and to your wonderful staff. All the best!